The specialization in the ​​concrete floors industry, coupled with the permanent focus on customer satisfaction and the growing market demand, led the Grupo TPB to expand its offer, investing upstream in the manufacture and marketing of products, and downstream in the application of coating systems.

Products

JRP is a national reference in the manufacture and commercialization of products and materials for concrete floors, especially dry-shake hardeners and metal formwork systems for expansion and construction joints.
In addition, it offers a wide range of machines, tools and accessories indispensable for the proper execution of any type of concrete floor.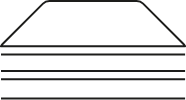 Concrete Floors
Technology





TPB - Tecnologia em Pavimentos e Construção, SA with its counterparts SOLEI, SL; JRP Maroc, SARL and SARL TPB France, based in Spain, Morocco and France, respectively, are specialized in the concrete floors execution and application, being sector leaders in the market where they are established.


Industrial Flooring
Whether they are industrial production units, commercial areas, cultural spaces, schools and hospitals, among other business areas, Grupo TPB has the right solution for every project with the guarantee of a high performance, resistance and durability floor.

Logistic Flooring
Modern logistics, with increasing vehicle automation, new handling and storage methods, require high quality floors with increasingly specific requirements.
Grupo TPB develops industrial solutions adapted to the requirements of this type of flooring, following the construction methods that best suit and respecting the standards of each project, offering greater performance in warehouse operations.

Urban Flooring
Grupo TPB urban flooring combine aesthetics and creativity with rigor and quality, providing urban, residential or commercial leisure spaces with style, functionality and durability.
Grupo TPB offers complete solutions for urban flooring according to the needs of each customer.

Special Works
Decades of experience in concrete floor and construction allow the Grupo TPB to offer excellent services in the preparation of foundations, general construction and other special works. Modern equipments and high technology, skilled technicians and an experient production department staff allow us to meet the growing market demands in this area.

Coating
Systems


INDUFLOOR is a specialized company in "PROGLASSFLOOR" polished concrete and high performance coatings, epoxy and polyurethane, leaving its mark on major works throughout the Iberian Peninsula, France and Morocco, always with the guarantee of customer satisfaction.